Attractions Guide to Anna Maria Island FL
Anna Maria Island is a picturesque 7-mile barrier reef island located between Tampa Bay and Sarasota Bay in the turquoise waters of the Gulf of Mexico. This old Florida treasure is made up of three small municipalities: Bradenton Beach, Holmes Beach, and Anna Maria.
The island serves as a natural exotic bird sanctuary for a variety of bird species, including pelicans, cranes, sandpipers, osprey, parrots, spoonbills, egrets, and storks. Manatees and bottlenose dolphins can also be found at any time in the gulf, bay, or intracoastal waterways. Visit between May and October to see sea turtles nest their eggs on the beach or pick up a pound of Stone Crab claws for a delicious local delicacy.
It usually takes me several months to plan our summer getaway. I want to make sure it's just right. After all, vacations are few so I put a lot of pressure on myself to make it perfect. This year, I did just that. Put pressure on myself.
Our options ranged from a long road trip to adjoining states to a staycation at home and local theme parks. But something I always try to remember is our commitment to explore Florida. Beth and I made it a point in California to explore local areas – and we found some great ones.
Florida's west coast is a treasure. A variety of getaways attracting a wide spectrum of audiences. Some touristy. Some known, but a bit more quiet, and not so commercial. Believe me, I'm all for the mainstream places that offer plenty to do and places to explore. This time, however, we wanted low-pressure, old Florida.
Anna Maria Island
While Anna Maria Island is one of the better-known islands on the west coast of Florida, it has maintained it's quaintness and is a bit more controlled with regards to modern, intrusive development (albeit, didn't see too much, if any, vacant land). We stayed on the northern end of the island at a small hotel near Pine Ave (the 'main' street) called Sunrise Garden Resort.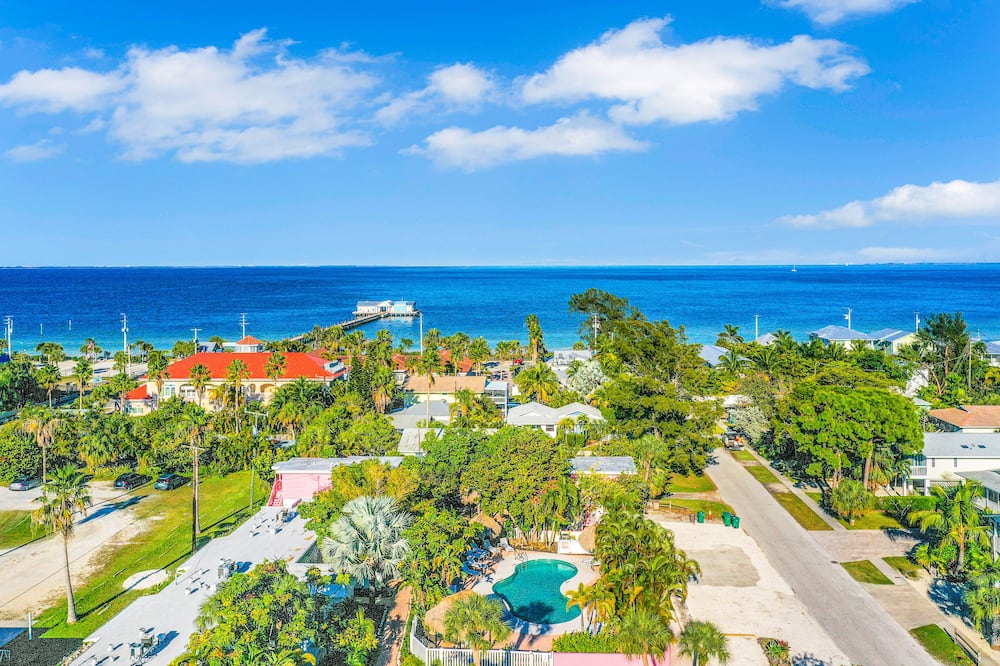 While it wasn't on the beach (saved some money by not being directly on the beach), it was a perfect location for that Island. You walk out of the hotel and turn to the right and you're blocks from the Bay and to the left, blocks from the Gulf of Mexico. Just a quick shout out to the friendly, very accommodating staff at Sunrise Garden Resort. It's a low-key hotel, but the staff seem to be committed to a wonderful stay for their guests. Don't go expecting luxury, just a simple getaway. We stayed in the owners retreat (the owners' move was actually the subject of a House Hunters episode). This was a perfect size for the 4 of us for our 3-day stay.
Your Island Stay
Pine Ave: On the island you'll find Pine Ave – a restored town center of sorts. From what I understand, the restored area is only five years old. It's a great little stretch of town with few shops and even fewer restaurants.
I'll be writing soon about one breakfast place that is a must-visit. Let's just say it has something to do with donuts… Shopping options include higher-end apparel, house goods, spices and teas.
Food/Dining
There are few dining options on the northern end of the island. You could most certainly get in your car and find plenty, but I'm talking within walking distance. Sandbar Restaurant, as well as Waterfront Restaurant catered to our dining options. Waterfront won out with multiple visits. Relish is only open until 2:00, but offers one of the only dining options to bring your pup (patio dining). There is a general store for that forgotten item, as well as ice cream and snacks. Ice Cream Shops also populate the island – and are usually packed.
With what I deem to be limited dining options (in our area), I would assume visitors come prepared with plenty of groceries, rent a beautiful large home, and relax – and visit an ice cream shop for an after-dinner treat. Don't fret, however. Should you need to make a store run, Publix Grocery is not too far.
Island Exploring
After some time on the beach, or at the pool, and in need of a break from the sun, we got in the car and headed south. More populated touristy areas exist before you get to Longboat Key. Good for a quick afternoon trip – but if you're like us, we immediately retreated to the quiet northern end of the island. Longing for a high-end beach town experience – check out St. Aramands Square in Sarasota. Dog-friendly, nice shopping and dining options.
In a nutshell, Anna Maria Island (northern end) is a modern-amenities, old-Florida experience with plenty of options to relax – and enjoy some beautiful water. Depending on your vacation desires, I recommend a hotel stay for a shorter stay and a house rental for your extended week+ stay. There are so many homes available – you won't have a problem finding your perfect getaway. Accommodations for all budget types.
Wake up early, grab a cup of coffee and take a quick walk to the beach, the pier, or Pine Ave. Anna Maria Island – it's a beautiful area worth visiting.